Series "Rodin : textes et recherches"
"Rodin : textes et recherches"» is a series of cutting-edge works focusing on one of the world's most renowned sculptors, Auguste Rodin (1840–1917). Its educational, research-based publications include four kinds of text:
Translations previously unpublished in French of major essays on Rodin from around the world, including Germany, Japan, Russia, and the Czech Republic;
Proceedings of international seminars and conferences, which open up new perspectives on subjects that may echo or transcend the parameters of existing research on Rodin;
Individual works that cast new light on Rodin's work or on the artistic context of the period;
Critical editions of foundational works by or about Rodin, including texts with diverse, multidisciplinary approaches in which historical, aesthetic, philosophical, and literary analyses combine to create a whole greater than the sum of its parts.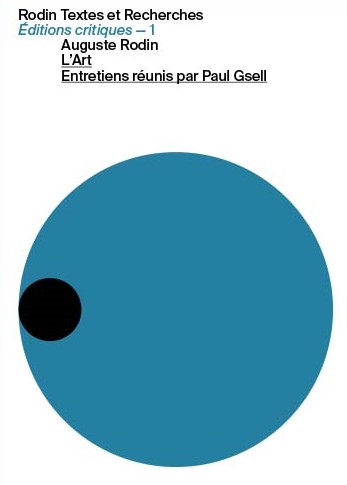 VOLUME 1 
Auguste Rodin
Art. Conversations with Paul Gsell
Edited by Véronique Mattiussi and Franck Joubin, translated from French by Linda Gardiner and Deke Dusinberre, Paris, Éditions du musée Rodin, 2022
Right when first published in June 1911, Art acquired the status of a classic. Based on conversations between the art critic Paul Gsell (1870–1947) and Auguste Rodin (1840–1917), the book was designed to offer a faithful transcription of the sculptor's ideas on art and artists. It was a commercial success, and translations appeared in over twenty-five countries around the world, contributing to Rodin's fame. Yet the true story behind the book remained to be told. What was the nature of Gsell's relationship to Rodin, and how involved was the sculptor in establishing the final text and choosing the illustrations? What role was played by the publisher, Bernard Grasset? How did critics react to the publication, and what was the international impact of its translations? In addition to the original text and illustrations of the 1911 edition—followed by Rodin's famous "Testament"—this volume features essays that shed light on these questions for the first time. It also includes useful footnotes and a bibliography.
Format : 21 x 15 cm
Pages : 240
Language :English
Price: €10
French-Language Publications
TRADUCTIONS INÉDITES – 1
Julius Meier-Graefe, Auguste Rodin, edited by Sophie Biass-Fabiani and Victor Claass, translated from the German by Jean Torrent
ACTES DE COLLOQUE – 1
Art et mémoire, edited by Véronique Mattiussi and Sébastien Mullier
ÉDITIONS CRITIQUES – 1
Auguste Rodin, L'Art. Entretiens réunis par Paul Gsell, edited by Véronique Mattiussi